Friends only except for fun stuff like random quizzes, icons and maybe some graphic brushes and wallpapers. Feel free to
friend me
to see icon/bases updates and/or check out my
personal website
as well for more webcandy. =)
Efficiency is the word of the present, and YahooGroups is no longer EFFICIENT.
This is just my list of problems that I've come across so far with Neo:


"About" should be on the main page; that is where you learn right off the purpose of a group.


Cannot edit pending posts.


Cannot reject pending posts with a reason why you are sending it back to them.


Too many mouse-clicks to get to desired area of Group - the more clicks to accomplish a task, the less people will use it (see, "efficiency" above). People want the shortest route to get things done. It's a good thing you don't design sites that have donation forms; I work for such a place that has one... our donation form is one click away from anywhere on the site and has the fewest steps possible to get that donation.


Cannot search by username or email in the archive - who the hell remembers a post number??


Despite formatting of a post, it is one big paragraph.


Cannot easily search post activity log - I need to easily search the last week of postings without scrolling down to have a page of a week's inclusion.


Pending member list does not list their email address, only ID - unhelpful when matching up pending member responses to their request so we can approve them.


Files - edited an existing file, selected Save, and it was them empty.


Default Pending Approval area is Photos - should be Messages, that's the main activity of most groups.


The UI is not user-friendly, especially for older or visually impaired/blind users who use browser assistance - ADA compliance anyone?


Viewing pending messages results in an inline pop-up - most people hate pop-ups in general.


When managing to approve pending messages, one has to refresh the page in order to open up another - what was wrong with approving and going to the next pending message?


Header image WAY too large and unrelevant. Replacing with my own results in a stretched version...and I don't want to redo it.


Do not need to see a list of my joined groups ALL THE TIME - a drop-down to see and/or change groups would not be objectionable.


We do not need Topics AND Messages AND Trending. Messages and Spam are the only sections needed. Seriously. The option to include the other two if the group has a need is not objectionable.


Having to click "More" for the rest of the menu items - another extra step/click.


New files - no option to notify the group of it's being added.


Send reply to sender is being overridden and sending replies to the list. We have that set that way for a REASON.


One too many times asking if I want to save something.


Main Yahoo ID is now being linked to all groups rather than secondary profile(s) I set for specific groups. I did that for a REASON.


Messages with quotes and apostrophes being changed to "&#39" etc.


In the Files section, folders are not at the top of the list. Are your file managers on your computers set up that way? Didn't think so.


It takes me FOUR times a long to accomplish what I need to when moderating, if I can accomplish something at all.


And, here's the kicker -
NO ONE
likes it. I have not seen one convincing post that anyone likes the new format.
Not ONE
. Have you taken a serious view of your own feedback forum?? Take a look:
http://yahoo.uservoice.com/forums/209451-us-groups
I've taken it to Twitter and @YahooCare is "happy to help" and wants me to follow them so we can DM to "facilitate help." I've told you the only way to help is to return the Classic format. That will be the biggest help you can offer.
You thank us for being "great customers", yet you screw us over by foisting a poorly functional UI indiscrimately on your users. If I wanted a Facebook feel, I would move my groups to Facebook. Guess what,
I don't
; the better interface was the way it worked before Neo. It was easy to use and we could guide members who aren't as internet savvy or older to use the groups, now....we'll likely lose members because they won't be able to easily find their way around with the ease-of-use left menus for the group being viewed and moderators won't be able to adequately help them.
Right now, I have deleted a couple smaller groups and am seriously considering closing my largest group of 18,000+ members (and I know there are larger ones out there) and leaving YahooGroups. I don't feel like a valued customer, and neither does any other person I've seen comment about it. And you know what happens when you lose customers? You lose money.
If you're a YG user and want to voice your opinions(s), these can get you started:
Trefis, a stock info site separate from Yahoo:
http://www.trefis.com/stock/yhoo/articles/203688/yahoos-redesigned-web-pages-are-paying-off/2013-08-29
Yahoo Feedback:
http://yahoo.uservoice.com/forums/209451-us-groups
Twitter:
@YahooCare
@Yahoo
@YahooGroups
@MarissaMayer (Yahoo Pres./CEO/Head of I Don't Give A Shit What People Want I Know Better Dept.)
You've rolled out a new format/user interface for YahooGroups. I'm not happy that I can't adequately moderate.
Current Mood:

pissed off
- Comments are nice.
- Credit/pimp to
turple_purtle
.
- Do not claim as your own.
- No hotlinking.
Teasers:




[1-5] icons/stock/bases - Daniel Day-Lewis
[6-9] icons - Daniel Day-Lewis
[10-11] icons - NCIS:LA - Sam Hanna
[12-18] icons/stock/bases - 1920s
[19-23] icons/stock/bases - The Hobbit: Ori
[24-26] icons - The Hobbit: Ori
[27-28] icons/stock/bases - Josh Duhamel & Chris O'Donnell
[29-52] icons/stock/bases - Loki
[53-61] icons/stock/bases - The Hobbit: Dwarves (in order: Bifur, Bofur, Balin, Dwalin, Oin, Gloin, Dori, Nori, Ori - Fili & Kili are missing because they weren't requested =( *g*)
[62-72] icons/stock/bases - 3:10 to Yuma: Ben Wade
[73-81] icons - 3:10 to Yuma: Ben Wade
[82-95] icons/stock/bases - bright colors
[96-110] icons/stock/bases - Downton Abbey: Lady Edith
[111-118] icons - Downton Abbey: Lady Edith
[119-131] icons/stock/bases - Revolution: Miles
[132-136] icons - Revolution: Miles
[137-144 icons/stock/bases - Arrow: Moira Queen
[145-148] icons - Arrow: Moira Queen
[149-152] icons/stock/bases - Star Trek: Voyager: Janeway/Chakotay
[153-156] icons - Star Trek: Voyager: Janeway/Chakotay
[157-160] icons/stock/bases - Human Target: Christopher Chance
[161-164] icons - Human Target: Christopher Chance
[165-170] icons/stock/bases - Jackson Rathbone
[171-174] icons - Jackson Rathbone
[175-178] icons/stock/bases - Hawaii 5-0: Steve & Catherine
[179-182] icons - Hawaii 5-0: Steve & Catherine
(
And all the rest
Collapse
)
I didn't include the coffee ones since I had done them in past icons posts and only reposted them to requester(s).
The first night I use heated it up by pan frying with some garlic and onion seasoning and topping with some four cheese alfredo sauce (from a jar - Classico) and Italian 5-cheese blend. Yummy.
Second night, pan-fried with pesto seasoning and topped with some Tintern chive and shallot cheese (one of my favorite cheeses!). The cheese lost some of its sharpness once melted, but still tasty.
Third version was supposed to be last night, but I wasn't feeling it, so I let it wait until tonight. So delicious. And quick and easy.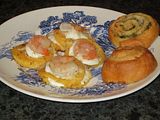 Ingredients
(for 4 minis)
4 shrimp - thawed, shelled, deveined
1/4 tsp. garlic & onion seasoning
1/4 tsp. EVOO
Pan fry shrimp in EVOO and seasoning while cooking your polenta. I cooked them a little longer at a lower temp. I didn't chop them up, but I would to make them easier to eat later. Time to be done about the same time as polenta.
8 slices polenta - @ 1/4" thick
1 tbsp. +\- EVOO
@ 1 tsp. marinara seasoning
Red sauce (optional, amount to your preference) ... I didn't have any thawed so did not use
4 tsp. +/- ricotta (I used whole milk ricotta)
4 tbsp. unpacked mozzarella or other Italian cheese (I used Kraft's Italian 5-cheese blend)
Brush both sides of polenta with EVOO and marinara seasoning.
In a skillet, pan fry polenta until heated through, about 2-3 minutes each side on electric range setting 7.
Once second side is heated, add red sauce if using on 4 of your polenta slices. Add 1 tsp. of ricotta and sprinkling of mozzarella that probably equals about 1 tbsp., loose.
Cover skillet to keep in the heat and get the cheeses nice and warm and melty.
Top with second slice of polenta and layer of sauce and cheese.
Cover again to melt.
Top with shrimp.
Enjoy!
This version I think is my favorite so far this week. I had a toll of polenta that needed used and perfect for week-nights because it cooks up pretty quickly.
I admit I could happily have a McDonald's wild berry smoothie every day and not get tired of them. However, that's not kind to the wallet, so it was time to invest in making my own. I appropriated mom's 40 year old Waring blender (glass...heavy), stocked up on fruits and a big container of yogurt and I am in business. My favorite has been a
multi-berry oat smoothie
from Martha Stewart of all people. I halve it, give or take, use pomegranate or fruit juice and add blueberries, strawberries; sometimes mixing it up with cherries and/or a blackberry or two. So, basically it became my base smoothie recipe with fruit variations.
There is
Chocolate Covered Strawberry
, that with a bit more chocolate would be perfect. I think I used regular milk, honey in place of agave, and left out the flax and avocado. I tried it with cherries, but it was just okay.
This morning I tried a
Carrot Cake Smoothie
. It tastes just like carrot cake batter! I have to admit I was a little skeptical with the Greek yogurt, but it turned out delicious. I left out the chia after reading 's experience with it, and the ginger only because I had none. I was afraid it might be slightly on the wrong side of sweet so added about a 1/2 tsp of honey. Other than being slightly thinner than I like for a smoothie, I'm pleased with this one and will definitely put it in my smoothie rotation.
I've also given a
Pina Colada Smoothie
a try...it tasted fine and like a virgin pina colada, but something about it didn't click for me.
Now to remember to get some vanilla frozen yogurt for a
Nutella Milkshake
....
Curse you, Pinterest! LOL
Current Location:

work

Current Mood:

tired
Which internet browser do you use most often and why? Similarly, which browser do you find most annoying to use?
Firefox is my go-to browser now for add-ons and functionality. I used to use Avant, which last I knew was still good, but Firefox offers more as far as add-ons. Internet Explorer annoys the hell out of me and I only use it as an absolute last resort.
- Comments are nice.
- Credit/pimp to
turple_purtle
.
- Do not claim as your own.
- No hotlinking.
- Icons are icons, do not change.
- Stock or bases are fair game (with credit) to customize.
Teasers:





[1-3] Amy Acker
[4-6] Morena Baccarin
[7-9] Amber Tamblyn
[10-11] Danny Williams/H5O
[12] User requested
[13-21] Lady Sybil Crawley/Downton Abbey stock/bases
[22-28] Lady Sybil Crawley/Downton Abbey
[29-34] Aurora Borealis in green
[35] phrase request
[36-47] weather stock
[48-50] user requested
[51-52] Hawaii 5-0
[53-63] fashion/flowers stock
[64-73] lighthouse stock
[74-79] medieval stock
[80-84] Tom Hiddleston stock
[85-89] Tom Hiddleston icons
[90-94] Keira Knightley stock
[95-104] Keira Knightley icons
[105-107] The Big Bang Theory stock
[108-111] The Big Bang Theory icons
[112-118] Nikola Tesla
[119-123] Mary Margaret/Once Upon A Time stock
[124-127] Mary Margaret/Once Upon A Time icons
[128-131] user request
[132-133] Wings/feathers
[134-137] War Horse
[138-142] G Callen/NCIS:LA stock
[143] Penny/Big Bang Theory
[144-148] Chris O'Donnell
[149-174] Inglorious Basterds/Shoshanna-Zoller
(
And all the rest
Collapse
)
I didn't include books, writing, and tea stock ones since I had done them in past icons posts and only reposted them to requesters.
What celebrity or other public figure would you be perfectly happy to never see or hear anything about ever again in your lifetime? Why do they annoy you so much?
Pick a Kardashian or Jersey Shore-ite....pick one. Or take 'em all collectively. Blah!
Holy crap these were delicious...and will be even better when I tweak them. I halved the recipe because I wanted to use the open ricotta I had and it was just under half of what the recipe calls for and didn't want to open a new container for just a little bit. And it's just me. The whole recipe would be perfect for 2. What resulted was still a little too eggy tasting, likely because of the slightly less cheese.
For my batch
, it was a thicker, but lighter, pancake batter. I presume the full recipe will be too because the egg whites are whipped separate and folded in. I suppose one could add a bit of milk if you want a thinner batter.
Lemon Ricotta Pancakes
Source:
http://www.thebootblog.net/2012/04/pancake-challenge-part-three.html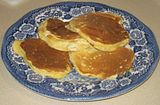 Had breakfast for dinner the other night. Don't look at me like that...lots of people do it. I'll eat breakfast foods at any time of the day.
First up, homemade sprinkles. I woke up earlier than usual (6.15a...bleh), and had until @ 8 before I had to leave for Sunday morning breakfast. I did my morning routine, got dressed and had a good hour and a half to spare. So, I figure, I could whip these out in that amount of time...it's only
3 ingredients
...shouldn't take long.
Wrong.
I have a renewed appreciation for cake decorators.
Homemade Sprinkles
Source: http://iambaker.net/homemade-sprinkles
Now, I love the idea of the variations in do-your-own sprinkles (and they don't cost $3 for 2 oz.), but this took a lot longer than I was expecting.
I used a baggie and my first corner cut was too big, which resulted in sugary stickiness escaping and drying/flaking everywhere. LOL You want to be able to stop/slow the flow of stuff with the release of a little pressure.
I have a few lemon-flavored recipes on deck, so I figured I make yellow ones.
I had the afterthought of using lemon juice rather than milk.
I stopped calculating at 1000.
I got lazy towards the end, hence the couple of wacky shapes, lol.
This'll give you about 1/4 to 1/3 of a pint of sprinkles.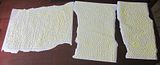 Worth it, but plan on a good two hours of piping.
Have a seat, you'll be standing a while (I stood, bent over...I needed an Aleve by the end of my day).
Have something on in the background to help pass the time. TV, music,
something
.
Flex your hand every so often to stave off cramping aches.
---
Chinese Pot Stickers/Dumplings
Sources:
http://brokeassgourmet.com/articles/shrimp-and-green-pea-dumplings
http://rasamalaysia.com/potstickers-chinese-dumplings-recipe/2/
http://www.food.com/recipe/chinese-pot-stickers-13320
I have been craving dumplings like crazy for months now. Take-out ones are steamed, but these work too. I used ingredients from all three of the above recipes (but not all of them) and wound up with 20 dumplings. Then I proceeded to eat four. =D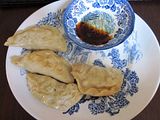 It's a lot of prep work. For all the prep, I want more results. In future, I'd likely at least double the recipe for more stash.
(
Recipe under the cut
Collapse
)
Theses certainly don't compare to where I usually get my take-out ones, but they are a good substitute; these are going onto the recipe notebook!
Sunday rolled around again, and had no other plans. I actually had big plans for my cooking afternoon... a freezer stash of Chinese dumplings, freezer stash of lasagna, and Lemon Butter Cookies. But the sprinkles put me behind. I accomplished the sprinkles and the dumplings.
Current Mood:

tired
Orange Crush-Cakes
Source:
http://www.shugarysweets.com/2011/04/orange-crush-cakes.htm
Well, this isn't your typical cake batter consistency. It's thicker...closer to cookie dough, but not quite as thick; not sure how to describe it.
I halved the frosting, then added maybe another 1/2 cup of powdered sugar and a dash or two of soda, because the full amount just seemed like A LOT. After icing all the cupcakes, I still had about 1/3 cup of frosting left. (Mom said they could have used more frosting ... but this comes from the woman who was eating one and a piece of the frosting dropped on the floor and she said "Oooh" in lamentation. LOL)
The only change aside from frosting amount was that I used fresh squeezed orange juice from the zested oranges rather than orange extract (I could not justify $4 for occasional use).
They came out a touch on the dry side, and were rather crumbly. I did use regular old flour, so maybe cake flour would have made a difference. The flavor was fresh and light, not overpowering at all. In fact, I think it could have used more orange flavor in the cupcakes since the only orange in them is the zest.
If I make these again, I'd consider doing mini-cupcakes.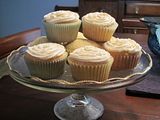 I've been jonesing to makes these for months, since I first saw the recipe. So I finally borrowed the 'rents grater/zester and got to work. I also bought a bag of lemons and stocked up on lemon zest and juice.